Born in 1848, Louis Comfort Tiffany was a well know New York decorative artist who is most commonly associated with the Art Nouveau movement and the creation of stained glass windows, glass mosaics, ceramics, leaded lamp shades and even jewellery.
Louis was the son of the founder of the famous Tiffany jewellers founded in 1837 which would of have a great influence on him.   He started his famous Tiffany Glass Company in 1885 which later became the Tiffany Studios and the source of many of the famous designs you see reproduced today including the famous Dragonfly designs.
Tiffany's favoured nature themes in his designs and some of his most popular lamps shades are based peacocks, bats, dragonflies, trees in blossom, trailing flowers and brilliant blooms. The stained glass were worked to provide strong contrasts whilst the bases are formed like tree trunks, roots or lily pads, each combining with the other to form a stunning and satisfying whole.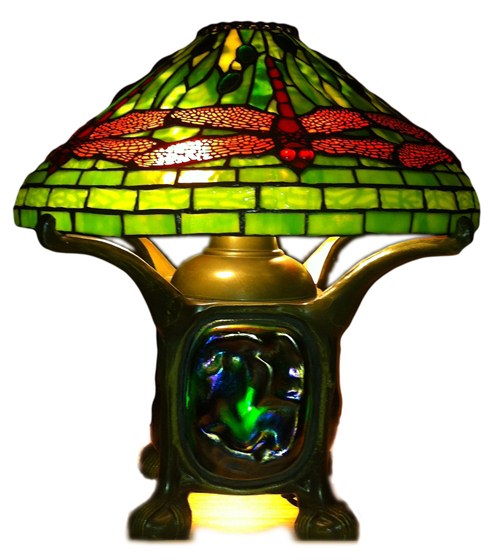 Many of the outstanding Tiffany lighting designs produced at Tiffany Studios were by women. Perhaps the best known, the dragonfly Tiffany lampshade was designed by Clara Driscoll in 1900, whilst the wisteria Tiffany lamp with its random edged shade and multicoloured mosaic intricately leaded, was the work of Mrs. Curtis Freschel in 1902.
Originally designed to be fuelled by Oil you find many of the earlier Tiffany Lamps contain a fuel base, Tiffany was well placed however to take advantage of the move to electricity and soon produced models powered by electricity.
The 1st world war saw the production of glass shades reduced significantly at the Tiffany Studios so the factory could be used for producing war supplies, production soon restarted afterwards but there was a change in taste after the war and production of glass shades stopped around 1924 with the studios moving into other designs before eventually closing down in 1932.   Louis Comfort Tiffany died the following year but his designs are still popular today.